Hire Categories
Machinery Repair
Industrial fans for hire Newry
Industrial fan for hire in Newry. Our industrial strength fan is the ideal tool for any job where you need large volumes of air circulated. This industrial fan is ideal for helping dry out buildings and rooms, great for painting large areas or for circulating the air to compliment a dehumidifier. Another handy use for this fan is cooling large areas such as warehouses in summer time.
---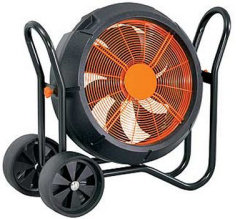 Industrial fan for hire
Industrial fan for hire in Newry is a fully portable 7 blade, high output industrial fan made to withstand the demands of industrial applications. This industrial fan to rent has a built in power control switch which allows you to limit it's wind speed. The fan can tilt a full 360 degrees, meaning you can apply the wind to exactly where you want it, even the ceiling. Applications for the industrial fan include, ventilating an area, cooling a large space or drying walls. We have found these fans to be particularly useful to painters who need their walls dried out quickly to apply further coats.
Specification:
240 volt
Power limiting switch
Fully encased fans
Rotates up and down 360 degrees
32 kg weight
Available for half day, day or weekly hire.
AM Rentals hire rates:
1/2 Day: £18 - Day: £25 - Week: £49
Opening Hours
Monday- Friday:

8.30am - 5.30pm

Saturday:

9.00am - 1.00pm
Our Warrenpoint hire depot closes for lunch 1.00pm - 2.00pm
---
Contact Newry
AM Rentals
16 Cornmarket
Newry,
Co. Down, BT35 8BG
028 302 66665
---
Contact Warrenpoint
AM Rentals
Great Georges St. South
Warrenpoint,
Co. Down, BT34 3HR
028 417 52079